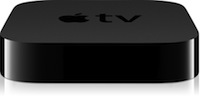 Apple just announced an updated Apple TV with some promising new features, and at a $99USD price point, it's a tempting device, but unfortunately, they missed the mark on several counts.
The new Apple TV is 1/4 the size of its predecessor, a welcome change as most users will need to find space for the device in their already-cramped media cabinets alongside A/V receivers, DVD/blu-ray players, and video game consoles.  It also adds $0.99 TV show rentals, available almost immediately after the show airs (currently limited to Fox and ABC).  Movie rentals are also available in HD starting at $3.99.  Users have up to 30 days to start watching the TV show or movie, and once started, 24 hours to finish watching.   The new Apple TV also includes the ability to stream instantly from Netflix, a much-longed-for feature that has finally arrived.  Finally, the new Apple TV includes HDMI output, although only at 720p maximum output resolution, and eliminates component output ports used in older HD televisions.
Unfortunately, the new Apple TV doesn't include a built-in hard drive (hence the smaller size).  Previously, users were able to sync all of the music from iTunes on another computer to the Apple TV, and then turn off that computer.  The Apple TV would then be able to play all of that music, along with the users playlists, even while the other computer was turned off.  This resulted in not-insignificant power and costs savings over the course of a year.  Now, with the Apple TV as a streaming-only device, Apple has essentially stripped away one of the most appealing features.  Further, the device, which is designed to support streaming HD video, for some odd reason only includes a 10/100BASE-T Ethernet connection (why not Gigabit?)
In short, here are my Pros and Cons for the new Apple TV:
Pros
Smaller size
Nearly instant TV show rentals at $0.99 each (although we already have this via Hulu for free)
Commercial-free TV shows (definitely better than Hulu)
Netflix streaming!!! (finally!)
HDMI port
Cons
Rentals only – can't buy music, TV shows, or movies through the Apple TV
Apple TV no longer syncs to existing iTunes libraries, so you must have other computers on and iTunes open in order to listen to the music you already own
No component output support
Only 720p (not Full HD)
Only 10/100BASE-T Ethernet
Suggestions for Improvement
Apple should seriously consider using the micro-USB port on the back of that thing for more than just internal use.  Right now, it's just wasted space and could easily be used for an add-on accessory camera (rebirth of the iSight?) to bring Face Time to the living room.  Also, 1080p output and Gigabit ethernet are standard at this point, and leaving them out is a regretful omission.
Further, and this has been mentioned countless times over the past few years, what customers really want is a flat-fee, commercial-free television-, movie-watching and music listening experience, similar to Hulu and Pandora, but without the ads.  The ideal would be Netflix + Hulu + Pandora on the Apple TV interface, seamlessly synced to all their devices, commercial-free, with unlimited watching/listening for a reasonable fixed price per month ($30 – $50).  If Apple can bring more networks, labels, and studios onboard, make some carefully calculated acquisitions or agreements, and provide a true cloud-syncing experience for users at a reasonable price, then they will own the future of media.
Conclusion
Overall, Apple has made some impressive design and feature enhancements to the new Apple TV, but certain decisions are questionable.  Regardless, at only $99, the new Apple TV will most likely sell very well.