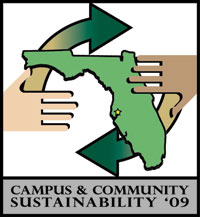 The annual Campus and Community Sustainability Conference is one of the most fascinating conferences I have ever attended.  It is probably the only place you will find elected city, county, and state officials sitting right next to undergraduate students, business owners, and professors, each of them discussing the importance of creating a more sustainable future for Florida.  With topics ranging from Urban Planning and Design to Organic Gardening, there's something for everyone.
Originally held on the University of Florida campus in Gainesville in 2006, I had the pleasure of being involved in the planning committees for Public Relations and Fundraising.  Along with the efforts of several enthusiastic volunteers, we took what began as a simple idea and turned it into a model for direct communication about sustainability between the government and private sectors.  I know she tends to shy away from the spotlight, but I am absolutely certain that this now annual conference would never have come to be without the efforts of Dedee Delongpre.
Dedee served as the Director of the Office of Sustainability at the University of Florida, and recently accepted a position as the Director of Sustainability at Wake Forest University.  Her charismatic optimism and endless stream of innovative solutions will be greatly missed on the UF campus, but her legacy lives on in the Sunshine State through the Campus and Community Sustainability Conference, as well as several other lasting programs.
This year's conference is being held at the new Marshall Student Center on the University of South Florida campus in Tampa, Florida.  If you would like more information, or wish to purchase a ticket to attend, please check out their website.  I hope to see you there!
Visit the Campus and Community Sustainability Conference website